Exhibition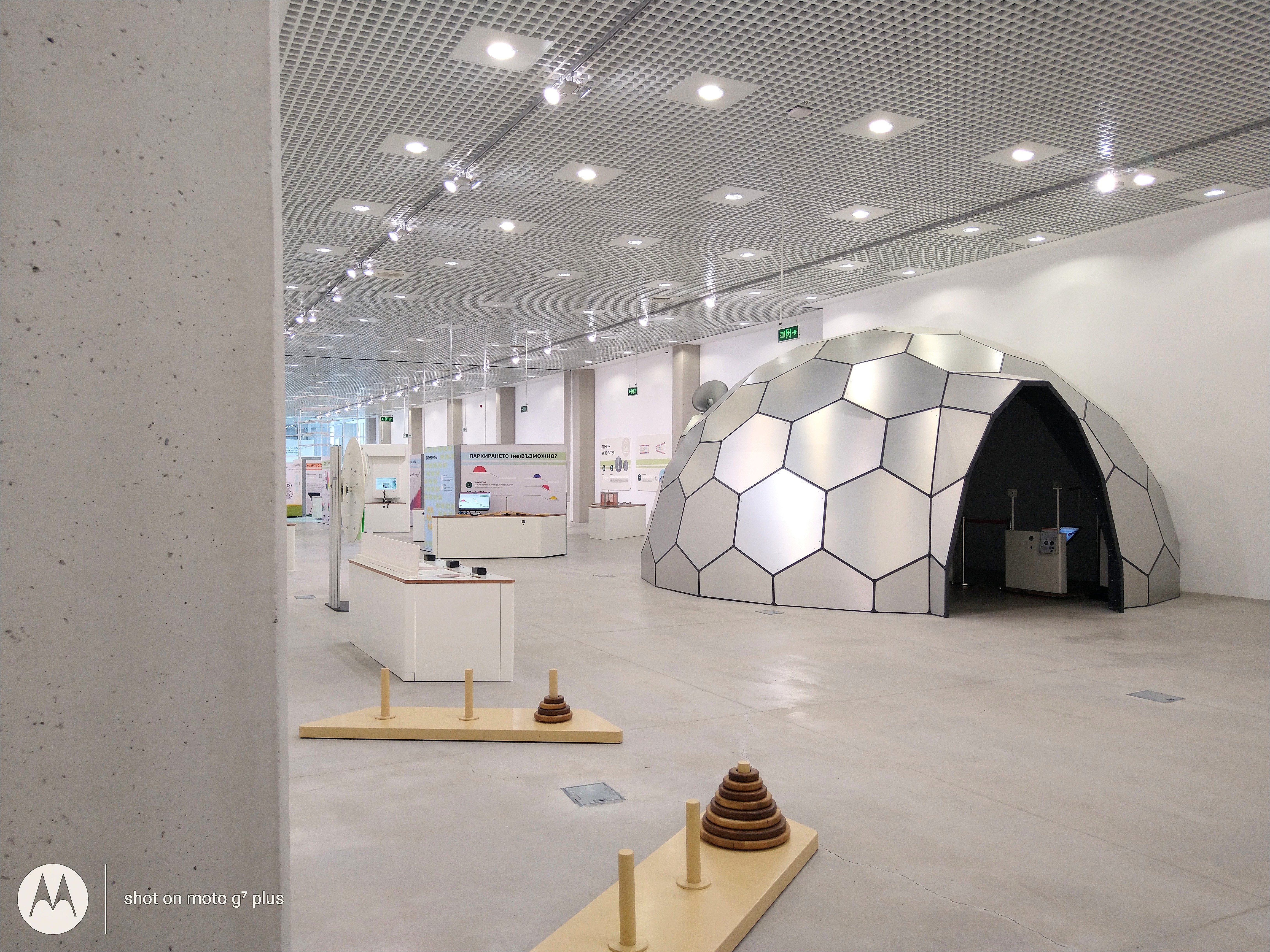 At TechnoMagicLand, we strive to ignite a passion for natural sciences and technology. We harness the natural curiosity for discovery and exploration through experiments, play, and competition. Our center is suitable for all ages, and the only requirement for our guests is to be confident readers. Come and join us on a journey of wonder and discovery!
On this page you can find:
---
---
At TechnoMagicLand, we strive to ignite interest in natural sciences and technology. We harness the natural curiosity for discovery and exploration through experiments, games, and competitions. The center is suitable for all ages, with the only requirement for guests being confident reading skills.
Our center boasts a special space of over 1,300 square meters that houses installations for experiments in the fields of physics, mathematics, information technology, and future technologies. Each demonstration installation has instructions in both Bulgarian and English, with standardized instructions that read:
"Create... / The challenge is... "
"Observe... "
"This is due to... "
"Its application is... / It is encountered... "
The exposition features a special electronic system - a video guide that allows visitors to get detailed information on how to conduct each experiment by using a smart phone and connecting to the internal WiFi network. Detailed instructions will be provided on site.
---
---
from Tuesday to Sunday
→ opens to visitors at 10:00 a.m.
→ visitors are allowed until 5:30 p.m.
→ closes to visitors at 6:30 p.m.
Monday → day off
Note: Opening hours are subject to change. Always up-to-date on our Google Maps profile.
---
---
Children up to 3 years old - free of charge
Children up to 14 years - BGN 6
Visitor over 14 years - BGN 10
Family voucher (2 adults and 2 children)

- BGN 30
Conversation in Bulgarian - BGN 30
Conversation in English - BGN 40
Virtual reality arena (20 min. with prior request) - BGN 15
The visits of organizing groups to the Center are taken care of by a coordinator who can offer the best conditions according to the goals you wish to achieve with the visit.
It is necessary to makea pre-booking by phone 0889 805 995, and you must tell us:
number of participants;

number of companions (if the participants are under 12);

the exact time of arrival.
In case of non-compliance with the reservation parameters;
We charge without preference the persons above the requested;

We do not undertake to meet the scheduled program in case of delay.
Even if the Techno
Magic
Land Expo is down now, that doesn't mean you can't take a walk! Put on your glasses and come to the
full version of the virtual walk
, implemented with the assistance of Sofia Tech Park.
Attention!
On the site you have the opportunity to see only a limited version of the virtual walk. If you want to take advantage of the opportunity to walk in your Virtual Glasses with us, do not hesitate to follow the
full version of the site.
---
---
The space of TechnoMagicLand is modeled after the world's leading interactive science and technology centers. It borrows the best from world examples, and what is unique is the information system that adds an element of competition. We have consulted academics, science professors, psychologists, innovative engineers, educators, architects and interior designers. The space is cleared because the main emphasis is on experiments.
Experiment is a prerequisite for a new look, explanation, discovery of a relevant phenomenon, law or a new and deeper understanding of the essence of a given technology. This helps visitors not just observe but experience the magic of discovery, science and technology and in particular:
for children and adolescents, the opportunity to work with physical and digital models of identical objects is enriching. In this way, we aim to support the adoption of the approach and awareness of the benefits of computer modeling;

for young people who are still learning their profession or are in the early stages of their careers, the Expo is a convenient tool that allows them to practice their skills in the field of STEAM, ; and why not supplement their trades;

for established specialists and realized experts, in their field, can also take advantage of the potential of experiments, which provide an opportunity for a different level of immersion, learning and relearning, updating knowledge on the foundations of science and technology;

for teachers and learning professionals, Exposition is a great tool that enables effective achievement of goals in their work.
Fun is an important approach in our work. The fun side of the Exposition is the discovery inherent in everyone, that's why we call the Center "territory for the curious". We believe that our visitors are curious, interested in the world of knowledge and come to us to learn in fun something new and exciting. The center is suitable for people over 7 years old. This is the age when we start school and the focus shifts from games to the systematic accumulation ofknowledge. World experience shows that learning should never end, that's why there is no upper age limit for our visitors.
Persons under 12 must be accompanied by an adult companion or parent. We recommend that parents accompany their children even after the legal age. Children and parents working together is fun and enriching, it allows for empathy, leaving lasting memories. The involvement of parents is an opportunity for them to reveal the gifts of their children, encourage them and support their future development.
The scientific approach is extremely important to us - each of the installations provides an opportunity to apply it in acquiring knowledge. The steps are 5:
research the phenomenon you want to describe. Collect data and/or take measurements;
consider the results obtained and formulate hypotheses that explain them;
assume based on the hypothesis something you have not yet observed;
check whether the assumptions are correct with further research and/or new experiments;
judge whether the hypothesis could be true. If not all the assumptions come out right, then the hypothesis is not true. In that case, formulate a new hypothesis. If the assumptions come out

correct, make new assumptions and check them again.
TechnoMagicLand is an extraordinary place inspired by the robot TML-1. The little magical symbol has its own very special story that we want to tell you.
Human civilization has missed the opportunity to be recognized as advanced enough to be invited to join the Galactic Alliance, which cares for peace, understanding and the development of civilizations.
During a secret reconnaissance mission to planet Earth, the representatives of the Galactic Alliance were left greatly disturbed and embittered. They found that Earthlings were using technology and progress to wage war on each other and were looking to science and technology for destructive power. They want to subjugate, not to include. At the same time, they lag behind in the adoption of key technologies. The representatives of the Galactic Union concluded that the human civilization is not yet intelligent and mature enough to make sense of contact with it. They flew back, leaving the TML-1 robot on Earth with a TechnoMagicLand mission.
The essence of its mission is to covertly monitor the development of human civilization, measure its progress and signal when it approaches the moment of sufficient development to be a worthy member of the Galactic Union. TML-1 creates puzzles, prompts young earthlings to experiment, and monitors their results. Based on them, he evaluates the level of their knowledge and abilities. The best get the title of "wizard of knowledge and technology". When there are 99 such wizards on Earth, TML-1 will send a laser-encoded message to the Galactic Alliance communications hub. With it, he will inform that the young earthlings are already smart enough and the time has come for a new mission to be sent by representatives of the Galactic Union to establish relations with human civilization. During the long journey to Earth, these young people will have taken over the management of the planet, and human civilization will no longer be a threat and worry to others. Earthling technology will be advanced enough to communicate with representatives of the Galactic Alliance and draw wisdom from its repositories of knowledge.
And so, thanks to you, reason and harmony will reign on Earth.
Young curious people, you are our hope!
We are actively working on the continuous renewal of experiments, development and expansion of TechnoMagicLand. We have set ourselves the goal of supplementing and enriching the exposition up to 30% every year. The exposition opens its doors on 23.06.2018 with 39 experiments.
The total number of experiments is currently 50.
Following the maxim of Confucius "They told me, I forgot. They showed me, I understood. I did it and learned it for life", we highly recommend you visit us. If you have not been able to visit the Exposition during opening hours, do not hesitate to do virtual tour until we open.

Attractive >
Interactive >
Game (competitive element) >
Scientific approach >
Enrichment with knowledge (Cognition)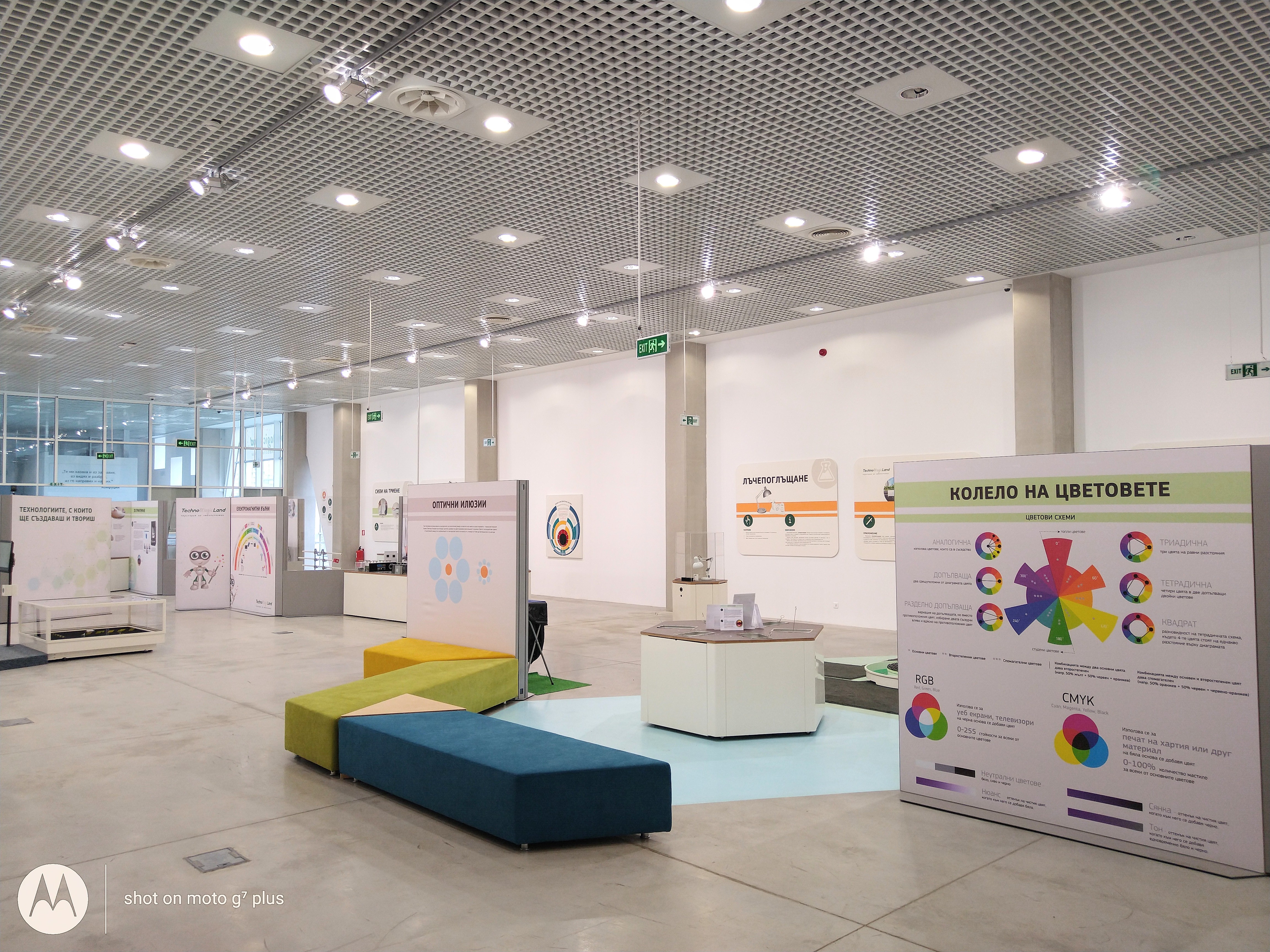 In TechnoMagicLand the game approach is actively applied, and in Exposition it is combined with the competitive element, allowing 2 forms of competition:
competition between people;
competition between humans and artificial intelligence (Ai).
Every visitor to TechnoMagicLand gets access to the Exposition after the payment of an entrance ticket and a deposit for an identification bracelet. It is valid for 4 hours and, in addition to entry, also serves to collect points from the visit.
Points give the opportunity to participate in leaderboards. After returning the bracelet, the visitor gets his deposit back.
In order for the visit of each experiment to be counted, the bracelet must come close to the places marked with a black circle. A short beep and blinking of the LED in the center indicate a successful registration and receipt of a point.
Additional points for successful completion are obtained on some of the exhibits, which include certain time tasks and achieving a certain goal. Just follow the instructions on the screen.
The obtained points form a ranking for the individual exhibit and are simultaneously added to the visitor's points already accumulated. Rankings for individual exhibits are displayed on their screens, and the overall ranking is available on the TechnoMagicLand website.
Levels in the overall ranking:
with a score of 200 points – level "Seeker" and a gift branded personal bracelet.
with a result of 400 points - level "Discoverer" and a gift branded personal bracelet.
with a result of 600 points – level "Wizard" and a gift branded personal bracelet.
The accumulated points from the visit can be saved in the visitor's personal profile with the code from the receipt. Points registration account is available from this link.
This section is available for visitors from Bulgaria and is only available in Bulgarian